We are very excited to invite everyone to our grand opening celebration on Saturday, July 15th, 2017.  We have been working with some amazing North Carolina breweries to identify their rarest and most delicious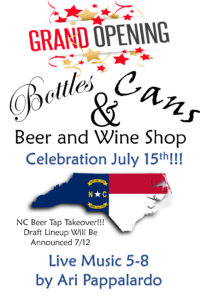 kegs of craft beer for us to share with the public.
1. Fullsteam Humidity Pale Ale ON NITRO!!!
2. HiWire Aerialist Summer Lager
3. Foothills Hop Job Session IPA
4. Brueprint Double Dribbrue Double IPA
5. Bull City Ciderworks Cherry Tart
6. Wicked Weed Lost Toys #1
7. Bombshell Blackberry Shandy
8. Sierra Nevada Ovila Abbey White Ale
9. Lonerider Magnificent 77 IPA
10. D9 Brown Sugar Brown Cow
11. Unknown Raisin the Roof
12. Olde Hickory Lindley Park Bourbon Barrel Aged Stout
13. Fortnight Malternative Facts Scotch Ale
Wait… 13?  We've only got 12 beer taps, how does that work?!?!  One of these puppies is a cask, you'll have to show up to find out!  (Hint, it's probably not the nitro.)
Additionally we have Baozi coming in the evening to augment the food options we have next door, and we've got Ari Pappalardo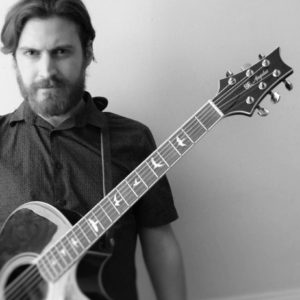 with his guitar scheduled to play some amazing live music for us through the evening hours.  Lots of local breweries will be sending reps with swag galore so if you've been looking for that one last sticker/coozie/glass come on over and visit!