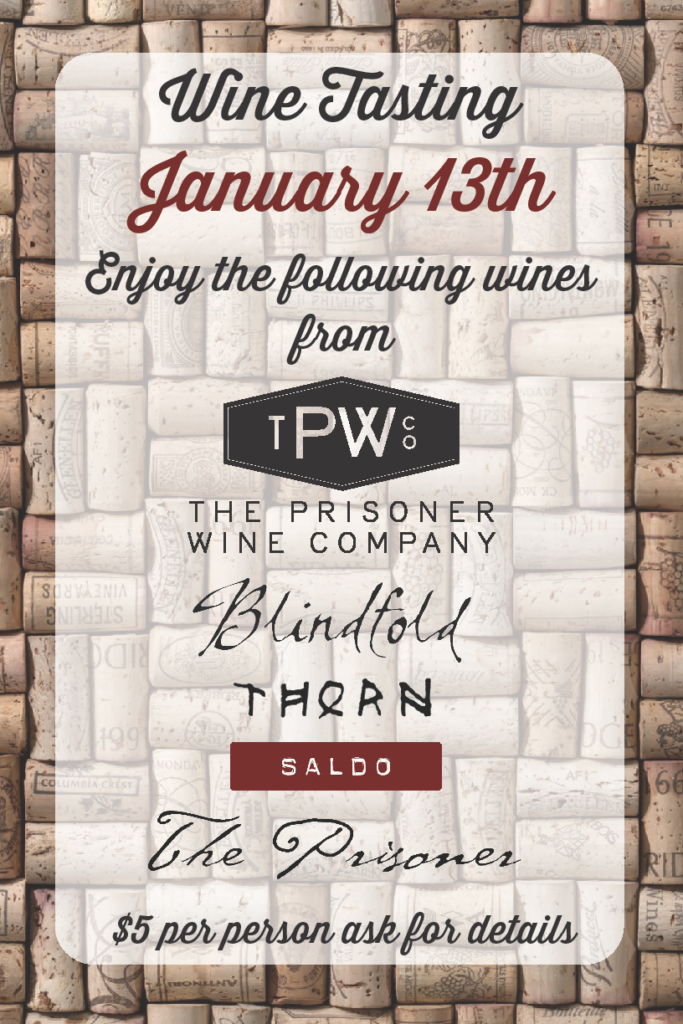 We're super excited to share a great wine tasting this week.  We'll be going through most of the offerings from The Prisoner Wine Company, an up and coming Napa winery.    The wine tasting will cost $5 which will go toward the purchase of a bottle if you want to take one home.
Here's a little background on the company…
The Prisoner Founder and Winemaker Dave Phinney's deep respect for the vineyards is rooted in an early attempt to make a sophisticated wine from a difficult site. Although he was frustrated by a situation that had him using every tool at his disposal and still coming up short, he learned lessons that inform his vineyard selection process now.
"I came away from that experience with the unshakable belief that if you put your emphasis on the vineyard, what follows is much easier," he says. "The vineyard is everything."
Most of Phinney's time is spent exploring vineyard sites, meeting with growers and selecting the fruit that will be vinified and blended into The Prisoner. His method for vineyard selection includes assessing the site, soil, varietal, grower and provenance, or the history, of the vineyard.
"Sometimes one of these aspects is enough, other times it's a combination of a few of these elements," he says. "With provenance, looks can be deceiving, so you have to trust in the track record of a vineyard as opposed to what you see. Occasionally you step into a vineyard and can't get to your phone fast enough to call the grower and lock up the grapes. Those experiences are one of a kind."
-wine.com