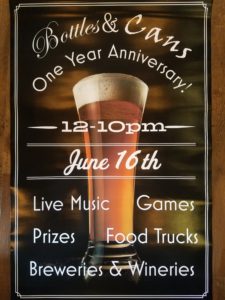 We're turning 1!   What better way to celebrate than with a  1 Year Anniversary Extravaganza!   Join us Saturday June 16th for an all day party.   Cousin's Maine Lobster food truck will be here for lunch (1-4:30pm)  & Baguetteaboutit will be here for dinner (5-8pm)! We will have live music (Billy Strathman during the afternoon and Madd Elaine during the evening) and Raffle giveaways every half hour!
We're highlighting NC breweries on the tap wall and have some unique brews that you can't find anywhere else in the triangle!  Raleigh Brewing, Brueprint, Gizmo, Southern Pines, Mother Earth, Fullsteam, Double Barrel, Big Boss and more will all have representatives and swag throughout the day.  We'll also have a few fun summer wines for tasting, (Cans?! Iced Champagne?! You've gotta try this stuff!)
Additionally, our anniversary will herald big changes…
NEW SUMMER HOURS
(We'll be open 7 days a week starting June 17th)
Sundays – Noon until 8pm
Mondays Through Thursdays – Noon Until 9pm – We've extended the weekday hours one more hour!
Fridays And Saturdays- Noon Until 10pm – Same as it's been.