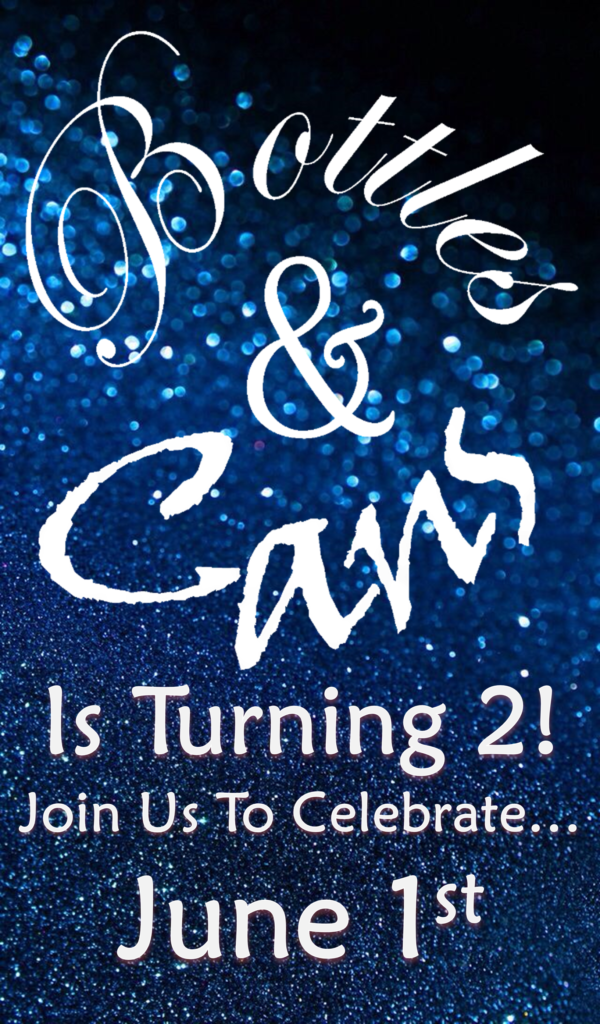 THE EVENTS FORECAST
Today, May 17th, marks two years of customers walking through the door at Bottles & Cans! We're extremely excited to invite everyone to celebrate this milestone with us on June 1st.
2nd Anniversary Celebration
Saturday June 1st 12-10pm
We are so excited to take the next step and would like to thank you all for your enthusiasm and encouragement for the last two years. Join us for the start of our terrible twos on June 1st for our anniversary party. Two bands, two food trucks, two major awards (and other minor ones), games, and an all local tap takeover. Facebook link with more details and timelines here.
Wine Tastings on Saturdays!
Saturdays 3-6pm
We're making this a staple, you're guaranteed a delicious learning experience. We'll have many guests visiting to guide exploration of a range of wine… and don't forget, the wines we're tasting that day are always on sale! Come take advantage of the chance to find a favorite.
FOOD TRUCK TUESDAYS 
The food truck on Tuesdays is always located behind us facing the Marq at Weston Apartments from 5-8pm!  More details on schedule in the calendar, but here's the immediate future.
5/21 Buff-o-Lina They bring all the traditional Buffalo, New York classics to the Triangle! We look forward to you trying our award winning wings, Beef on Weck, Sahlen's hotdogs and much more!
5/28 Jolly's CHASE THE TASTE!!! Your favorite comfort foods, they specialize in American soul food
6/1 5-8pm Cousin's Maine Lobster Lobster, lobster, and more lobster!
6/4 The Cow and the Oak The Oak City's premier mac and grilled cheese truck.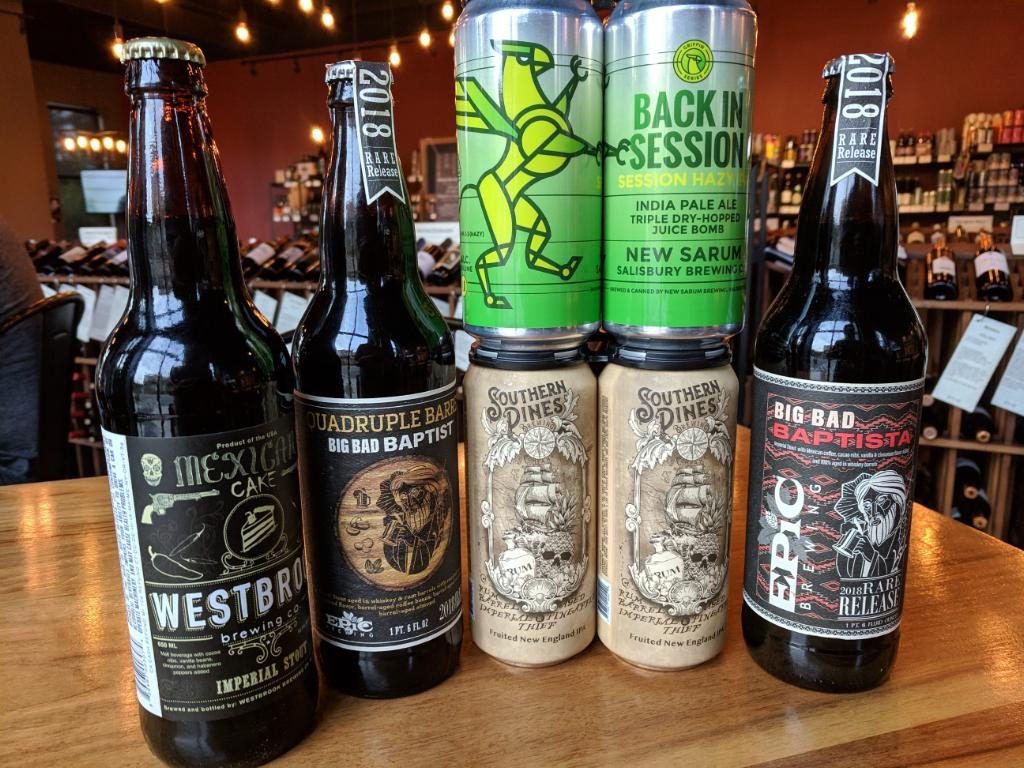 IN THE BEER WORLD
Bring on the Baptist!  We've had a delivery of some special brews.
Quadrupel Barrel Big Bad Baptist – Epic: 12.3%abv We've taken barrel aging to a whole new level by aging shaved coconut, almonds, ans Blue Copper's columbian coffee beans in whiskey barrels. Then our brewers hand-blend each batch creating the most complex and outrageous version of Big Bad Baptist we have ever made.
Big Bad Baptista – Epic: 11.7%abv Big Bad Baptista is inspired by traditional Mexican coffee, Café de Olla, which is served with cinnamon and piloncillo, an unrefined sugar. The Cinnamon adds another layer of complexity and accentuates the earthy character of Mexican Coffee, but more importantly, it captures the essence of a place and its culture.
Mexican Cake – Westbrook Brewing: 10.5%abv Imperial stout w/ cocoa nibs, vanilla beans, cinnamon, and habanero peppers. This is a perennial favorite and only comes around now and then, come grab it while we have some!
On the bright side we also have a couple special IPAs that were just delivered.
Rum Barrel Aged Imperial Pineapple Thief – Southern Pines: 9.4%abv This Imperial version of Pineapple Thief Fruited New England IPA was fermented with pineapple purée before being aged in Jamaican rum barrels. The beer was then brought out of barrels and dry hopped with Citra, Idaho 7, and Mosaic before being conditioned on coconut chips.
Back In Session Hazy IPA – New Sarum Brewing: 4%abv Back in Session Hazy IPA was developed to master the balance between a massive amount of flavor and aromatics with the need for sessional drinkability. This lower octane, more consumable, triple dry hopped juice bomb makes it possible to enjoy more than one with friends and not be late for the next day. Think of it as a reminder to every one of us that absolutely needed Spring Semester extra credit papers around this time of the year. "I think of all the education that I missed, but then my homework was never quite like this!"